LD Packaging Co., has been taking actions to fight against the novel virus
LD Packaging CO., held a donation activity for fighting against the novel virus on March 5th. This donation calls for voluntary participation and voluntary contributions. Our CEO Mr. Chen Gancai, our General Manager Mr. Zhong Jianchang as well as all of our staff in LD PACK attended the activity. The board members playing a positive leading role were the first ones to make contributions. After that, many employees also donated money to contribute to the fight against the virus. Finally a total of RMB 13766 raised in this activity had all been donated to help those who are suffering from the novel virus.
Ever since the outbreak of the novel virus, LD PACK has acted immediately to establish a virus prevention and control leading team to make sure our company has enough virus prevention supplies and to work out the measurements to prevent and control the virus. More than a dozen of documents about virus prevention and control were issued, such as "Ten Regulations About Virus Prevention and Control in LD PACK". Employees are required to strictly comply with the requirements.
The regulations require that every day when our employees come to work, they will need to be taken temperature; their hands and soles will need to be disinfected by some disinfectant; and they will get a new surgical mask. What is more, the regulations also require that every inch of corner in the company also need to be disinfected to ensure our company is clean and safe.
For those places where there would have a lot of people gather around, like canteen, to prevent any possibility of virus spreading, there were some blocking panels set on each dining table. And on the panels there has some words to remind people not to speak with each other during a meal and to clean all the leftover of ones own before leaving. And this move has won the recognition and was followed by many other enterprises.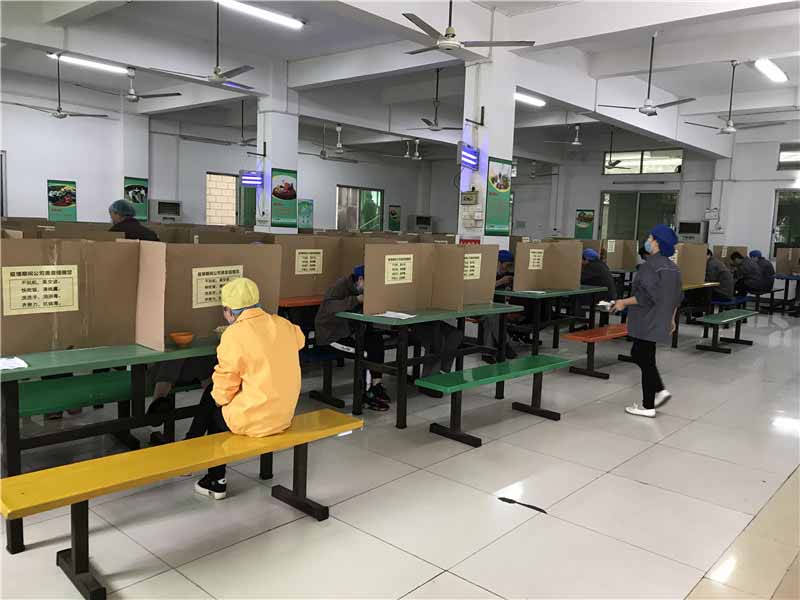 LD packaging CO., has always been adhering to the purpose of contributing to the society. In the face of the raging virus, LD PACK proactively take measurements to fight against it. In the meantime, LD PACK spares no effort to help other enterprises in need - LD PACK helped those enterprises in affected areas pull through by donating surgical masks to them when LD PACK's masks were in short supply. And sharing with other enterprises about their good experience in preventing and controlling the virus.